You can award a winner even if the contest is open and you're still getting design submissions. However, it is recommended to wait till the contest is over.
You get seven days from the contest launch date to award a winner.
Here is how you can award a winner:
Go to your contest page and open the running contest.
A detailed page related to your live contest will appear. Go to the "Entries" tab and select the design you like the most.


Once you've chosen your favorite design, click the "Trophy" icon appearing below it to award the designer. (You can also enlarge a design for a clearer view and then award a winner. However, the "Trophy" icon will appear on the left side of the screen.)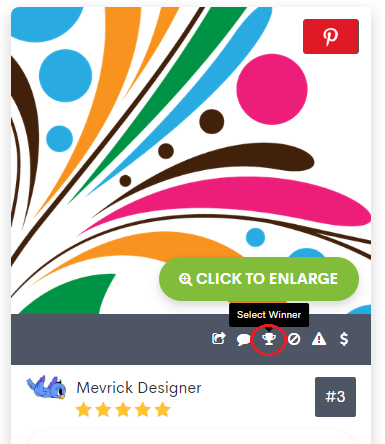 Next, a confirmation pop-up will appear. Click on the "Award & Continue" button to confirm that you want to award the design winner. (Make sure you've chosen the right design to avoid any inconvenience later.)

After the winner has been awarded, proceed further with the handover process.
Note: Once you enter the Handover process, you can request minor design changes before releasing the prize money to the winner. We also provide the flexibility to select multiple winners.
Also, be informed that you can no longer claim a refund once you've awarded a winner. To understand it thoroughly, please refer to our Refund Policy.