Your portfolio is a great place to show off the designs you've created for contests or 1-to-1 Projects on Designhill. Designers may not add any designs to their folios from private contests or without client authorization in 1-to-1 Projects.
To add a design to your portfolio -
1. Go to 'My Portfolio' page by clicking on the green button, 'CREATE PORTFOLIO'.
2. A page will open where you will be able to upload personal designs to your design portfolio. You can upload a maximum of 25 designs per month.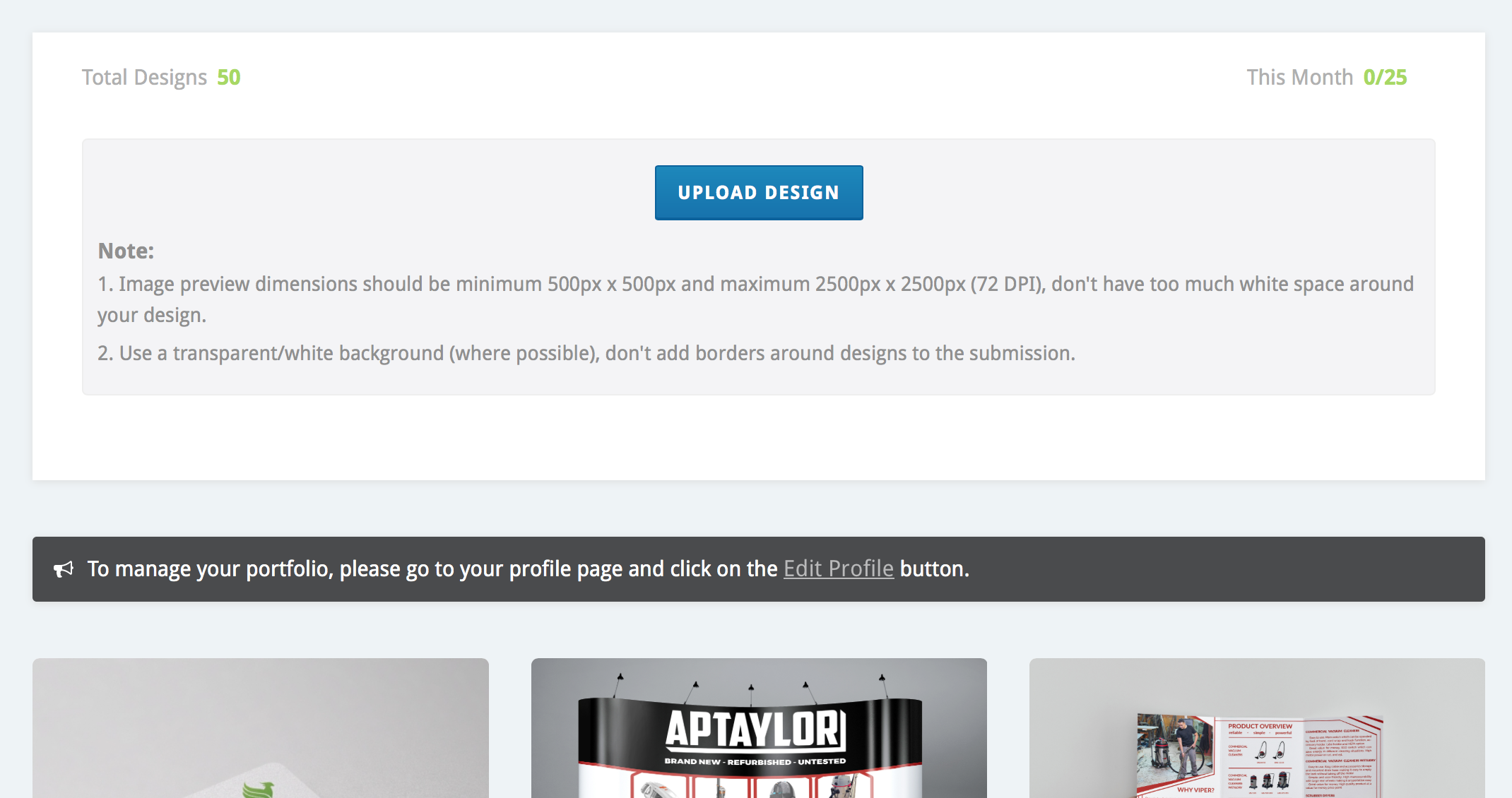 3. Click on the blue button, 'UPLOAD DESIGN' to start the process of uploading a design. Its a 5 step process:
3.1. In the first step, drag and drop the image you want to upload in the white box as shown below. Give it a title to your image and press 'Continue':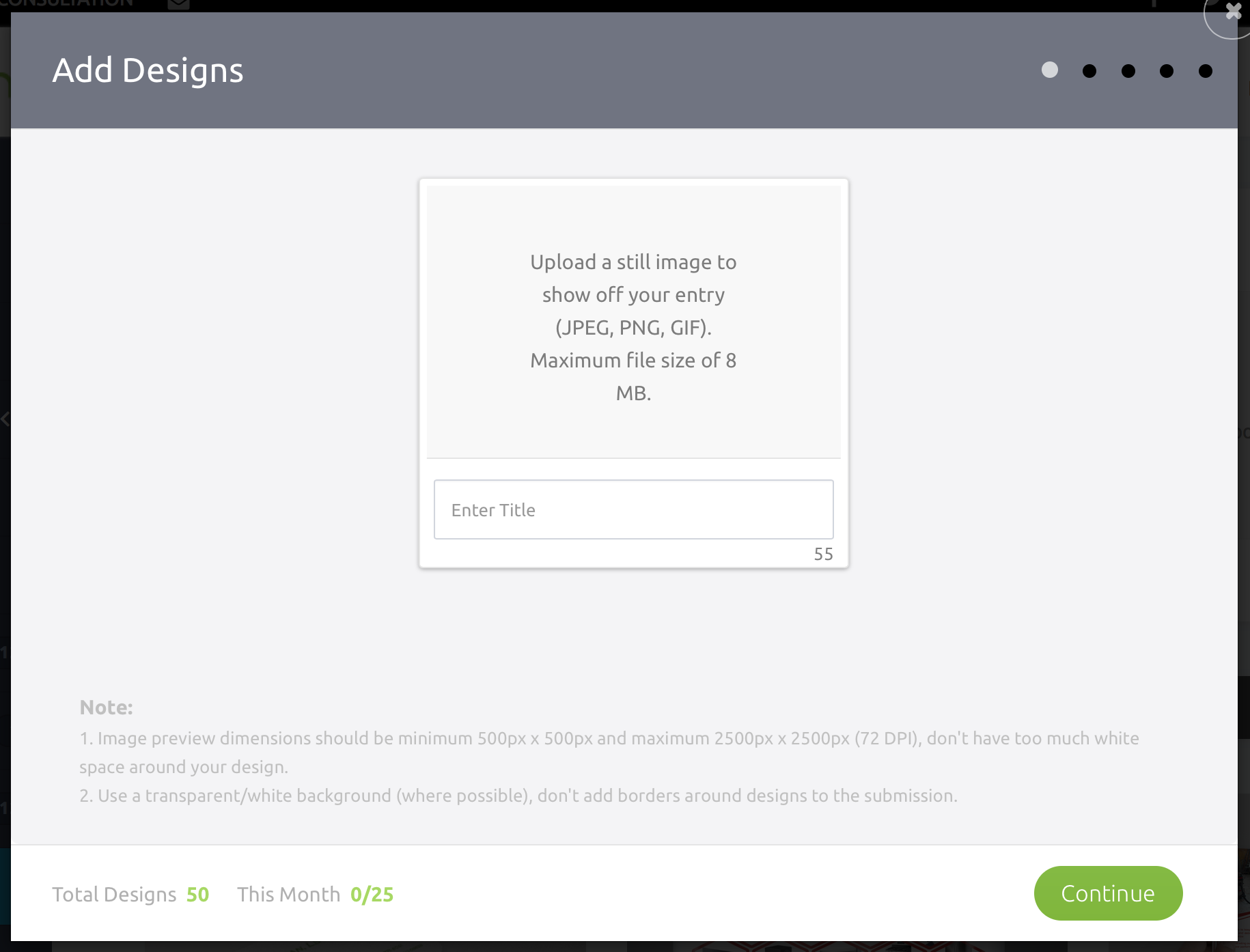 3.2. Once you have uploaded the design you will enter a preview mode where you will use the cropping tool to enhance the look of your design when it is shown in a thumbnail on your profile.
To crop simply drag the cropping tool's black edges around your image until you're satisfied with its placement. You can even see the preview of your design in the "Thumbnail preview" box on the left. It helps you see what the design will look like on your profile page.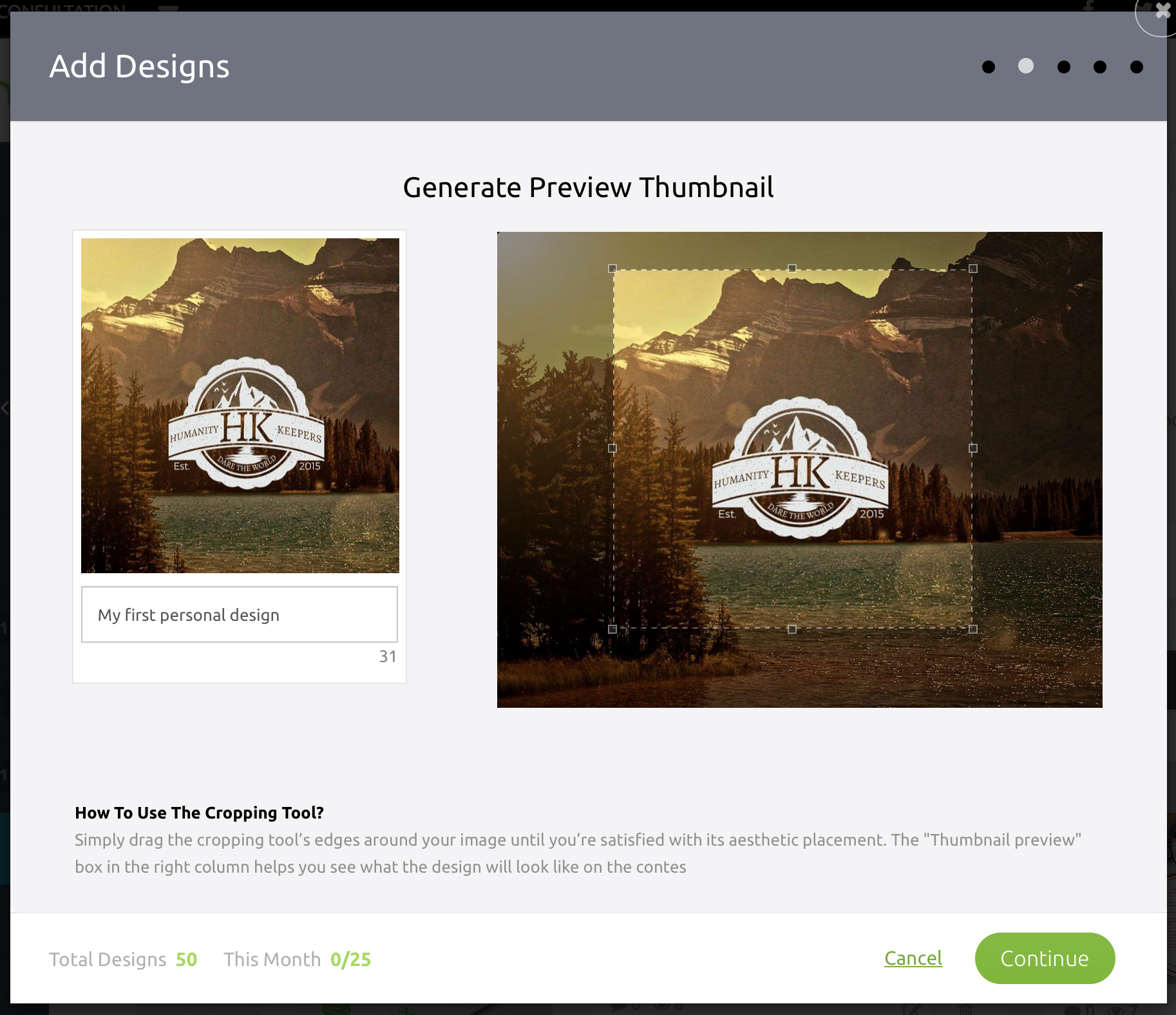 3.3. Press 'Continue' to see the final cropped version. If you are satisfied click on the 'Continue' button.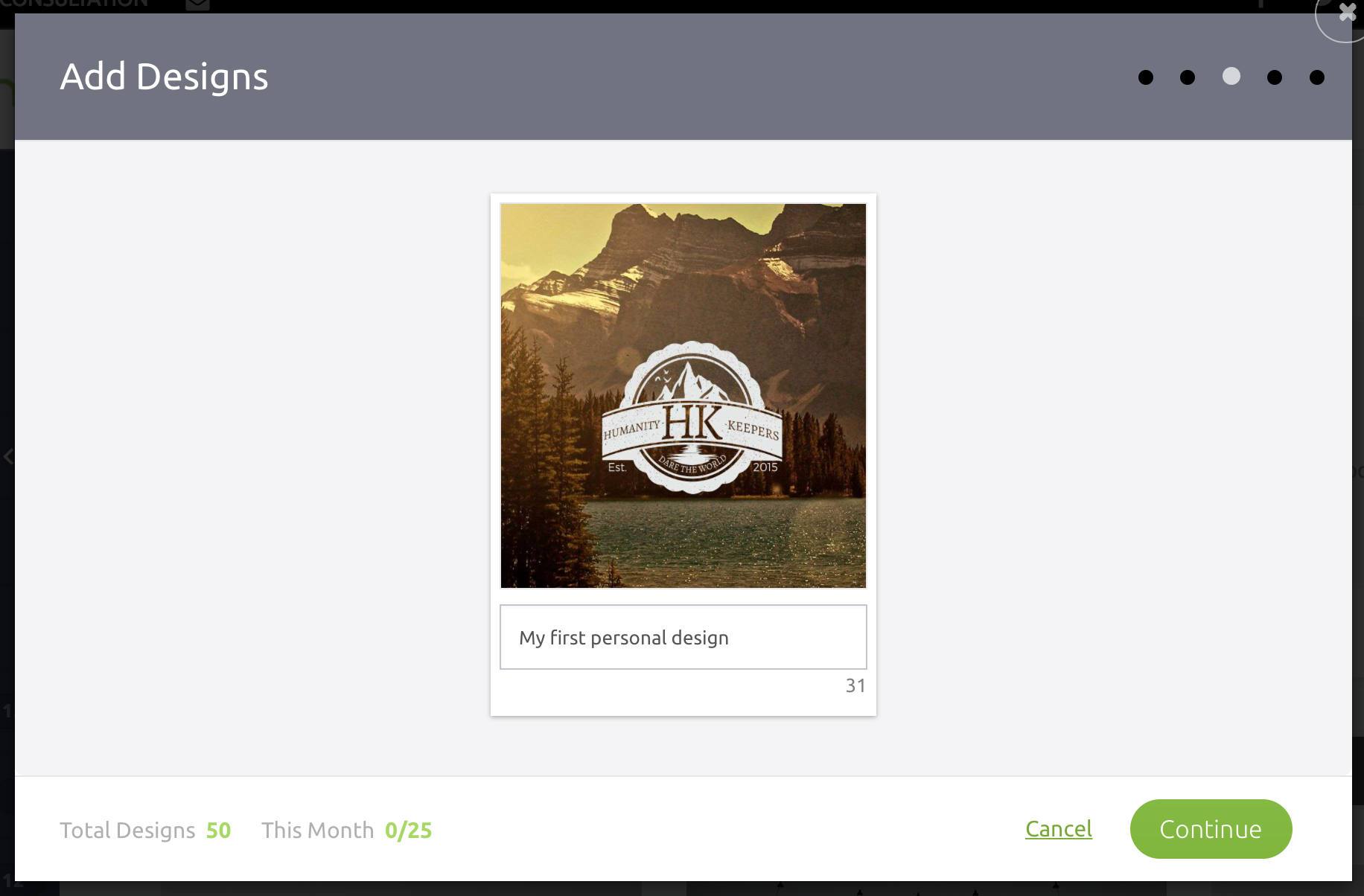 3.4. In the 4th step you need to add all the other information about your design. Adding this extra information helps your viewers understand your design better. This information also helps in discovery of your designs on the design gallery page. You need to add:
A title that names your design
A description for you to explain your concept
A design category that categorises your design into right category.
Multiple tags for your design which help is discover and search.
Click on the 'Publish' button once you have filled out all the information. After publishing you will get an option to share it with your friends and families via email, posting it on Facebook etc. Its a quick way to share it with the world!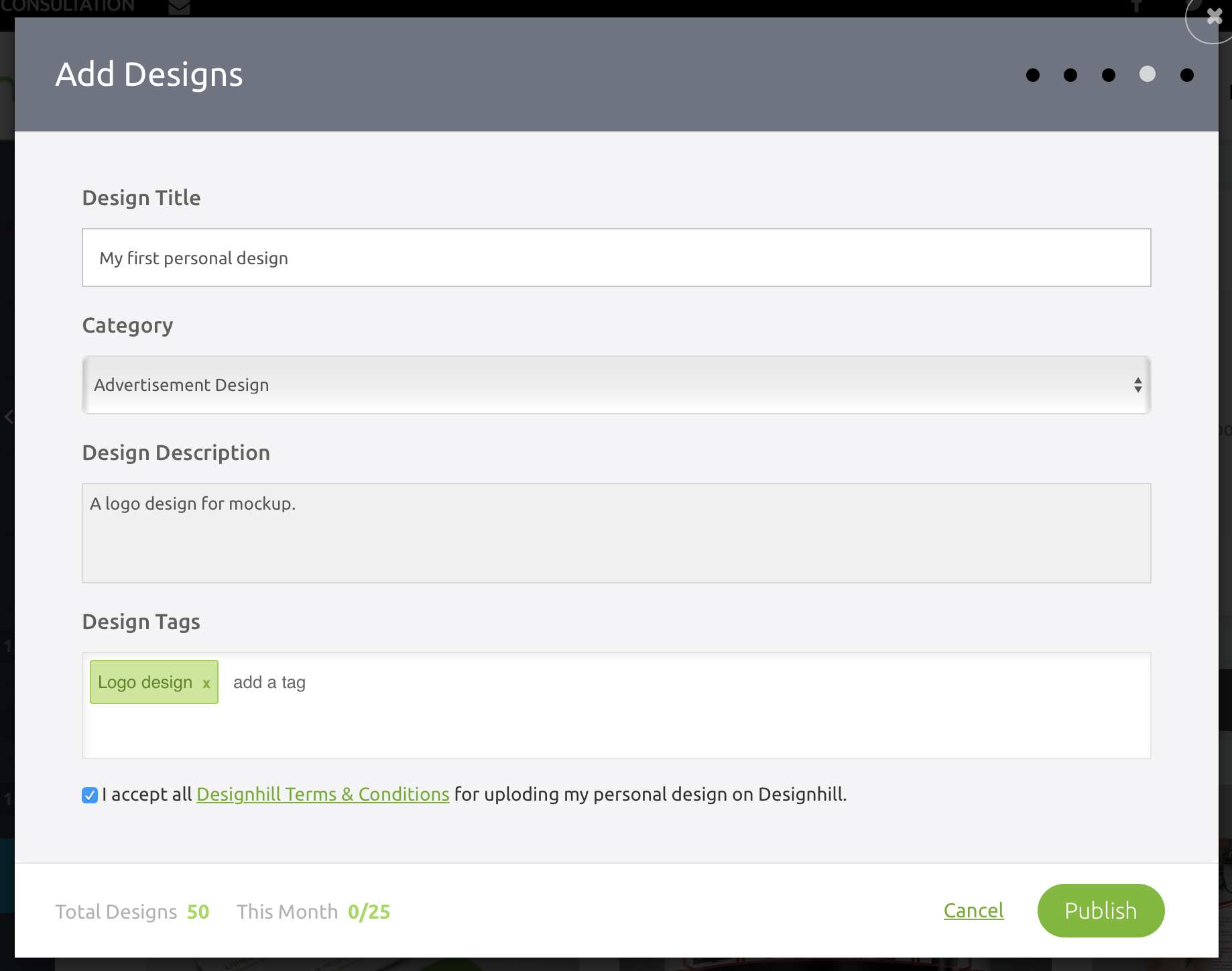 To remove and edit a design from your portfolio -
If you want to remove or delete a design from your portfolio, go to 'My Portfolio' page by clicking on the green button, 'CREATE PORTFOLIO'. There you will see a list of all personal designs you have ever uploaded. Click on the trash icon to delete the design.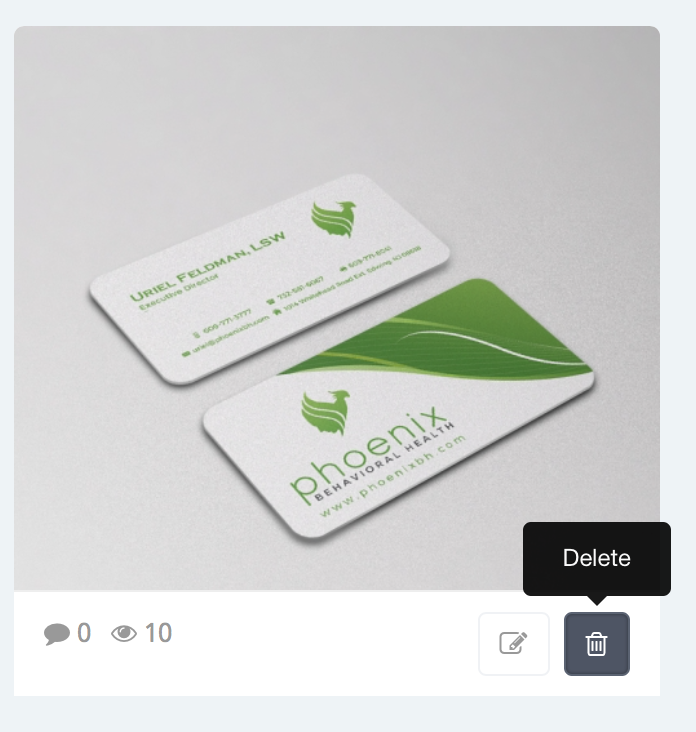 To edit information of an already uploaded personal design, click on the pencil icon. A pop-up will open where you can update the designs information.