Your portfolio represents both yourself and your work! More and more clients are now hiring designers at Designhill for freelance design work. Why are you missing out?

Create or Update your Designhill portfolio today! At Designhill, we want to make it very quick and easy for clients to find specific designers that match their needs. This has substantially increased the need for a compelling portfolio on the site and for the very same reason its important you understand these points discussed:
1. Avatar
The first thing that most of us see is the profile picture of a person. The profile picture is perhaps the important component of a profile. And in a world where attention span of users is even less than that of a goldfish, if your avatar isn't eye-catching, you can miss the opportunity to impress a potential client or create a killer impression on the viewers. Therefore, it makes sense to try and create a killer avatar for your profile.
Here's is a little smattering on what you should do and shouldn't do when choosing your avatar.
Do: You can simply use your personal photograph as the avatar image as it will connect faster with the clients or businesses. Make sure that your image looks serious, professional and trustworthy. You can hire a professional photographer for the same if you wish.
Don't: You don't have to look sexy or stunning in your profile picture. So, refrain from getting sensuous pics clicked for your avatar image. Remember, it only reflect upon your casual attitude towards work. Also, don't ever make the mistake of uploading someone else's photo as your avatar as it may eventually damage your credibility.
2. Create an Interesting Profile Cover

A cover page gives you ample space to highlight some of your best work. Therefore, use this opportunity of attracting your clients visually to the fullest. Create a profile cover that goes well with your profile image, something that reflects your work style.
Do: Make the maximum use of the width of your cover page. You can blend your designs or make a collage of your design work. Show your creativity and attract clients.
Don't: Ever use images that you don't own. Also, make sure that you don't place important images or designs on the far left or right as when a client opens your page through mobile, there are chances that the design will get cut.
3. Make Best Use of Your About Page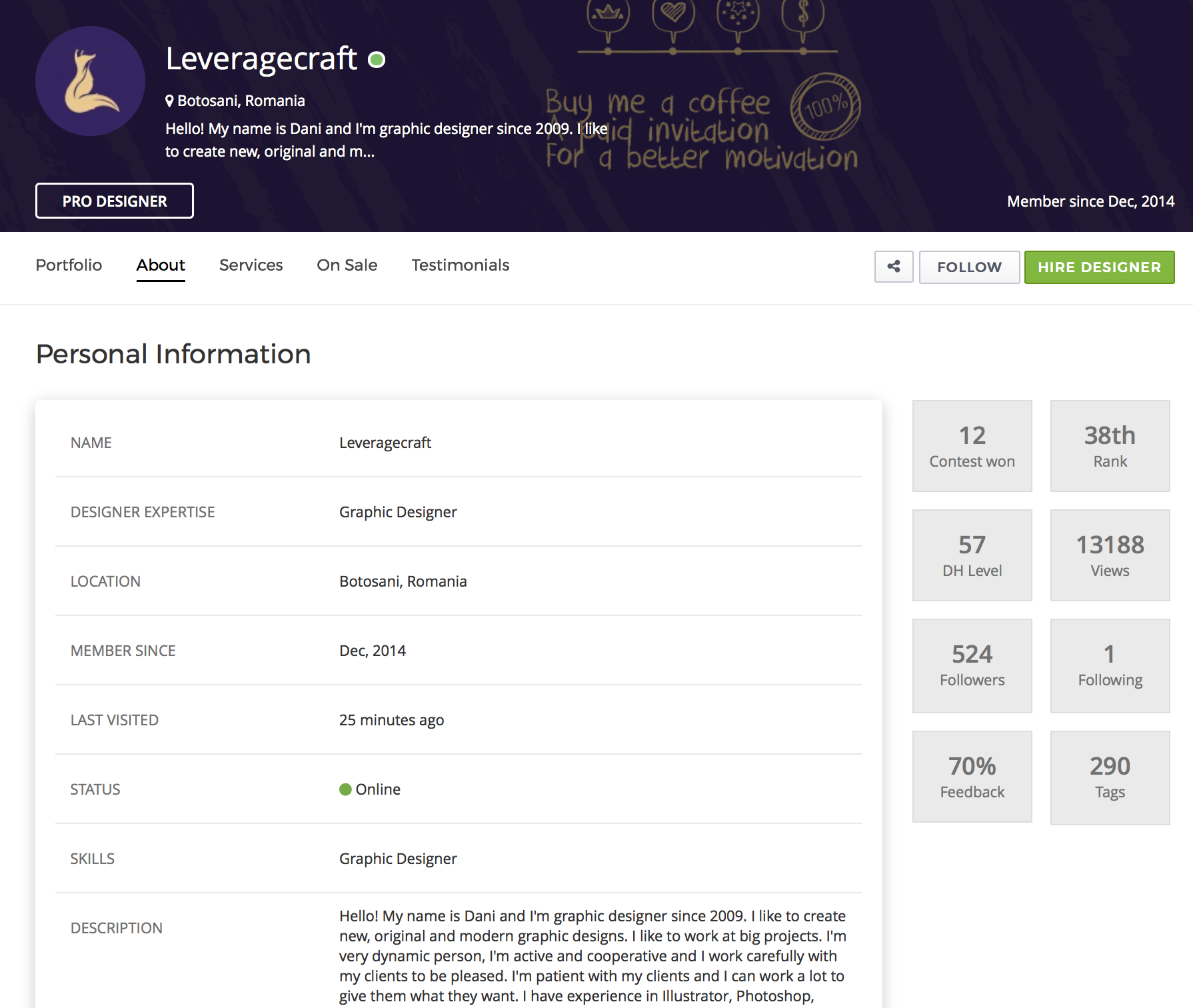 Though this is the second page of your profile, however it makes sense to utilize this page carefully as you can give a lot of information about you, your work and achievements. Another benefit of having this page is that your portfolio will be less cluttered and over loaded with your work. In the bio section, you can write about your hobbies, who are you, what are your interests. Everything about yourself. This can include the languages you know. Then there is a top skills section wherein data keeps updating automatically as and when you win contests or are selected as a finalist. We suggest you to choose keywords that are searchable so that the chances of your profile ranking higher in search engines become more.
4. Client Testimonials Work Wonders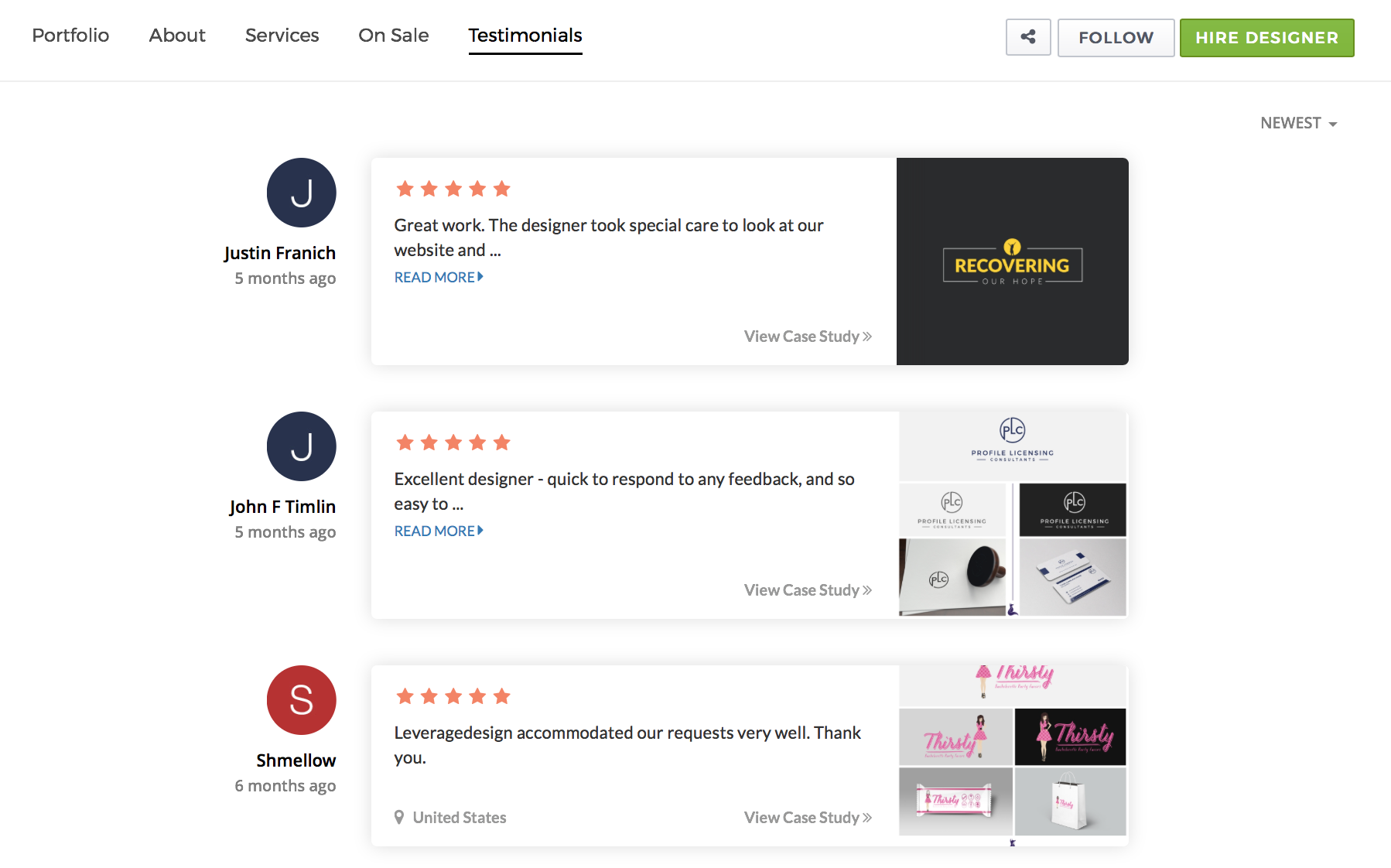 There is nothing better than having a good testimonials in your profile, if you don't have yet. After every contest you win, you should request contest holders to leave a positive testimonial for you!
People love to know and do what other people are doing. And when a client says something good about you, there is no chance that a potential client can ignore it. Don't give a second thought in displaying all the praise showered on you by your former client. It builds trust in your current clients as well as reflects the value of your work.
5. Your Bio & Skills
Think of this as a professional statement with a personal twist. Use these few lines of text to briefly describe your skill set while also conveying your passion for design on a personal level. The personal/professional balance is the key here; your challenge is to come across as a real person with a unique personality, as well as a skilled and reliable designer.

Consider these suggestions:
Do: Get specific about your special skills, education and interests. "I'm a photographer in my spare time," "I love detailed illustration" and "I'm a branding whiz and have done work for companies in industries X, Y, and Z" are great. "I'm a designer" is way too vague. This will not separate you from the pack.
Don't: Just write a famous quote or token of personal philosophy. This may make you seem like a nice person, but it does not tell a client anything about what design skills you will bring to the table.
Do: Keep it fairly brief. Character space is limited, and if you run over, the end of your statement will be replaced by an ellipsis. So stay within the range.
Don't: Write in any languages that you wouldn't expect your clients to speak.