You know everything about the incredible art provided by PrintShop. But what about the product(s) you're about to buy? It is always a wise idea to check out everything about a product before buying it.
If you're browsing through our products/category pages, you'll find detailed product information after clicking on a particular product. Once you open the product page, scroll down to the "Features" section which contains information about that particular product.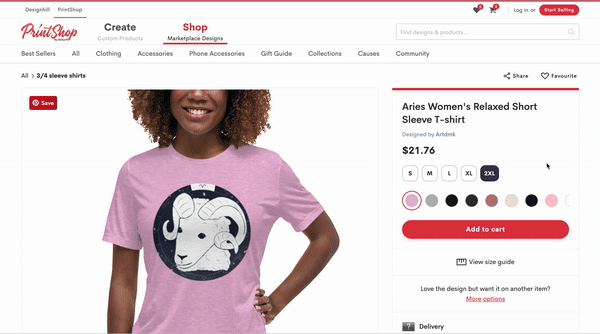 Frequently Asked Questions
How is each T-shirt printed?
Every product on PrintShop is printed especially for you once the order has been placed. Basic apparel such as a t-shirt is printed using a direct-to-garment printing technique.
The process involves the pretreatment of the garment before loading it for printing. This method ensures the print sinks deep into the fibers of the cloth. This makes the print stay longer on the product than the traditional transfer prints, which sits on the top and fades away pretty soon.
A graphic t-shirt with a full bleed area is printed using the sublimation printing method. It involves heat treatment that turns the inks into gas and combines it with polyester textiles. This way, the ink becomes a part of the material, and the image printed on the fabric doesn't come off even after several washes.
Are your products, such as t-shirts, made of cotton fibers?
We have most of the basic shirts added to our product list made of cotton fibers. However, you will find a few exceptions as well. The product detail page will give you the exact information about the fabric type and other features.
Note: the full-bleed garments are constructed using a polyester blend for smooth sublimation prints.
What's the smell that comes out of the newly printed product?
Upon arrival, you may find your t-shirts smelling a little strange and find something extra as well. This peculiar smell or excess residue or colors is caused by the printing method.
To get that excess residue and smell removed, wash your new t-shirt in cold water and hang it to dry.
How can I take care of my garments?
We recommend you wash your garments in cold water and dry them by hanging. This will make the prints stay longer. It's great for the environment as well.
Will I be able to access all my ports, points, and plugs with your Samsung and iPhone cases?
Yes! With our range of phone cases, you will be able to keep your device safe while getting full access to your charging port, camera, and power button.
Do you provide Digital Gift Cards?
Yes, we provide digital gift cards! When you cannot decide what to gift to your loved ones or need a gift for last-minute shopping, a digital gift card comes handy. Buy one from PrintShop and send it to your loved ones digitally in just a few taps!
What is a Gift Card?
A gift card is a pre-stored-value money card or pre-paid card that works as an ideal gift for your recipients. It gives them the flexibility to choose a product of the same amount. While they enjoy the freedom of choice, you get an appreciation for your thoughtfulness.
How can I redeem a gift card?
You will receive the gift card code included either in the email notification, via a text, or on the printed card. Enter your gift card code in the PrintShop's Coupon/Gift Card field of the Payment Process and click Apply button to deduct the amount from your total order value.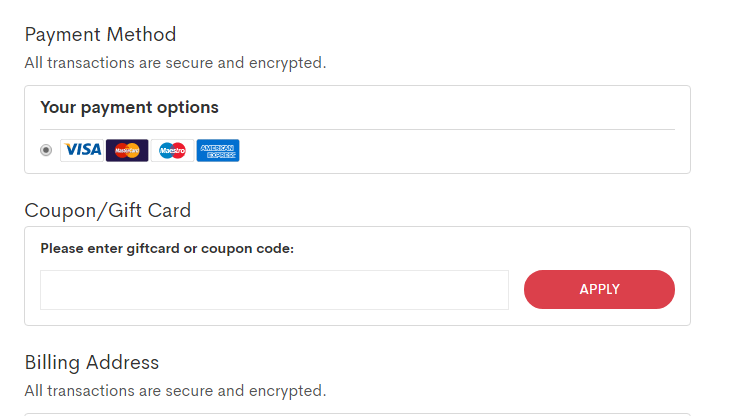 In case the gift card amount exceeds your order total, your gift card will still have the balance remaining for future orders. If there is a balance remaining for your shopping, choose the feasible Payment Method, and complete the order for successful checkout.
How can I purchase a gift card?
Purchasing a PrintShop gift card is hassle-free. All you have to do is to browse through our Gift Card section, choose a value/amount such as $20, $30, $40, $50 etc. and add it to the cart. Complete the payment process.
We will send the digital gift card to the email address you provided during the checkout.
Share the gift card with your recipient(s) via email, text or in a printed format.
That's it!
How to use a gift card during checkout?
Feeling lucky to have a gift card received from a loved one? That's great! Let's see how you can use your gift card during checkout:
Once you've decide to buy, add a product to your cart and head to Checkout process
Enter your details to proceed for the Payment Method
Click the "Coupon/Gift Card" field and enter the code
Click "Apply" button
Now, complete your payment process and check out using any of the accepted payment methods (in case your shopping value exceeds the coupon card value).
Have a happy shopping experience!
Are gift cards refundable?
No, all gift cards are non-refundable.