To make sure your designs will be printed well on products, keep dimensions and formats in mind. If we refer 'big', here it doesn't mean the file size but the resolution.
There is a difference between the file size and resolution. While the file size is measured in bytes (for example Megabytes MB), the resolution is measured in pixels. When you save a design for printing, it is the pixels on which quality depends.
Product Dimension Needs
To ensure the best print quality of your artwork, every product on Designhill PrintShop has a set dimension. When you upload a design, it fits the default dimensions automatically. However, there are resolution thresholds given too.
If the resolution is >= 120 DPI (Good Print Quality)
If the resolution is >= 75 DPI (Average Print Quality)
File resolution recommendations: Your print file has to be at least 150 DPI (dots per inch) to ensure optimal print quality.
When you resize the design, you see the effects of a design size in a box on the right side. Also, you see the print quality in three options— Good, Average, and Poor. Depending on the size, you get an idea of the print quality.
Please note that DPI doesn't affect your final uploaded design.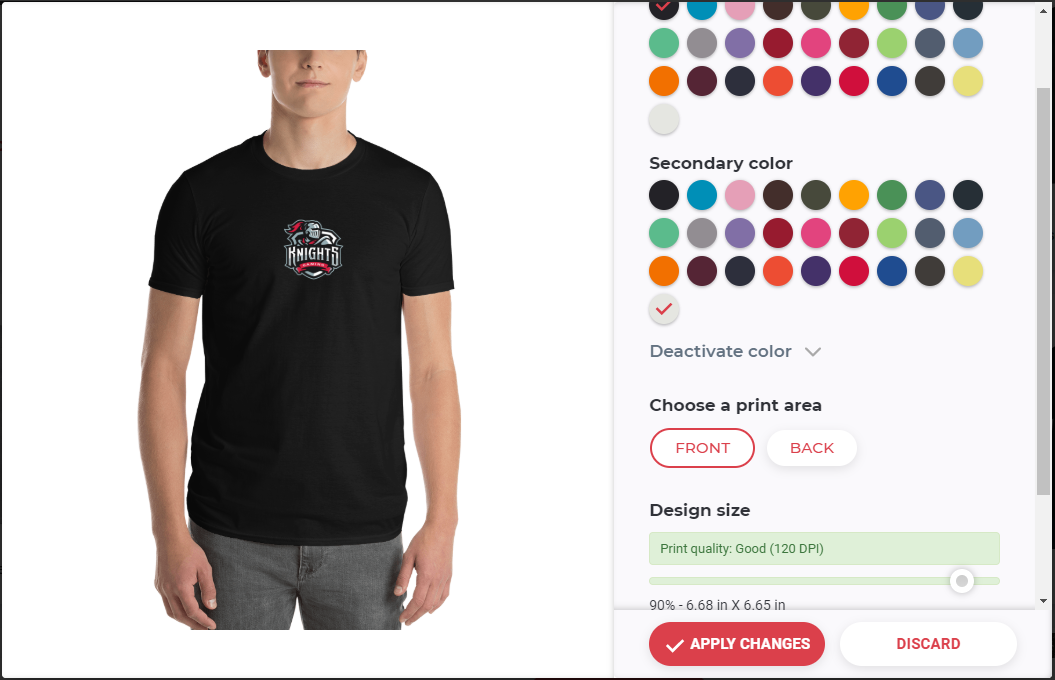 How to know if the print file quality is ideal for printing?
If the files size is not suitable for printing, you will see different warnings highlighted in red in the mockup generator:
You may consider that enlarging the size of the print file or increasing its DPI will work out. But the main reason of the problem is that you are still submitting low-quality image file. Even 300 DPI will not guarantee a quality print if you use a low-quality file in the first place!